Free Daily Traffic Is Key To Getting Referrals! Get 1000s Of Free Credits Every Month Using The Tembrowser Surfing Tool. Free Members Can Surf 10 Traffic Exchanges At Once, Below Are Instructions & Top TEs To Surf...
Top Traffic Exchanges To Surf Using The Tembrowser


Tembrowser Power Surfing App

Tembrowser is free to join enabling you to surf up to 10 traffic exchanges at a time. Simply login and download the browser. Then add our main traffic exchanges to your templates plus a few others below. (Your first 10 are free)

Then you simply open the browser from your desktop and add those 10 sites to your group. Click the action gear for the group and choose Open All, to login to all of the sites and start surfing them. Believe me, once you've done this, you'll never go back to tab surfing again!


Holiday Hits
Holiday Hits is our primary traffic exchange. Most importantly for Paid Daily Members is the Coop Credit Generator. Join the Coops in the downlinebuilder there and your coop link will automatically populate the supersplash page earning you 1000s of free credits!

Easy Instructions are at Holiday Hits under the Free Coop Credits button. At all traffic exchanges simply include your Holiday Hits SuperSplash Page & your Paid Daily Club referral link. You'll grow your team here and earn free ad credits at the coops at the same time!

EasyHits4U is a huge TE. When surfing using the Tembrowser always choose the 1 to 1 surf ratio at EasyHits4U. You'll rack up credits much faster this way. This traffic exchange is so busy, you'll never have credits sitting around long.

Earn up to 30% credits from your referrals. Bonus depends on your activity (50+ visited pages total during the last 30 days)

Plus conversion rates are good here with plenty of online income seekers surfing daily. Again the best strategy is to add your Paid Daily Club home page & 1 splash page plus the Holiday Hits SuperSplash here & all traffic exchanges to grow your team & earn free credits.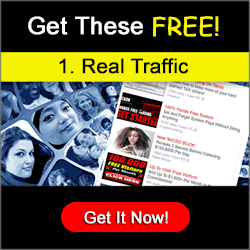 LeadsLeap
LeadsLeap is a very unique traffic exchange. You earn credits by how much time you view each site, plus extra when you rate the site on a 5 star system. It's a bit different surfing using the Tembrowser too, it opens a new window in the browser when you start surfing.
What you need to do, is hover over the corner of the window and resize it down in one corner of your window. Then every lap around simply choose another site at leadsleap to view and rate. It's worth the extra trouble as this is a very busy site with tons of income seekers.

TrafficAdBar is a very large and busy traffic exchange. When you add your 2 Paid Daily Club referral links and Holiday Hits SuperSplash you need to make one your primary site.

Make your Paid Daily Club home link the primary, Very Important it'll get the majority of your hits here. When you surf here, every 25 pages you get a choice to trade for points or take all the hits. Always take all the hits.
TrafficG is a great traffic exchange that's been around for 20 years. Not only is the surf ratio 1:1 but you earn referral bonuses down 5 full levels! This is a must surf daily site, keep an eye out for your username in the daily bonus on the start surfing page for 1000s of credit prizes.

There are 1000s of unique surfers here everyday, so you'll get fresh eyeballs on your Paid Daily Club referral link & splashes. Not only that, but there is also a great banner exchange.




Traffic Exchanges To Surf With the Primary Exchanges Above.

Choose from these sites to surf a total of 10 at a time including the Primary Exchanges Above.

HungryForHits - Finest Traffic- Sotuk Traffic - Member's Rule - Pistol Packing Mama - You2Surf - Hits Voodoo - YourPTCbiz- TESearch- Hot Flash Hits - OMG TE - Tweetyfied Surf - Sporky Hits - Happy Pig Country - TE Society - Traffic Speedway - Breeder Hits - Green Leaf TE -